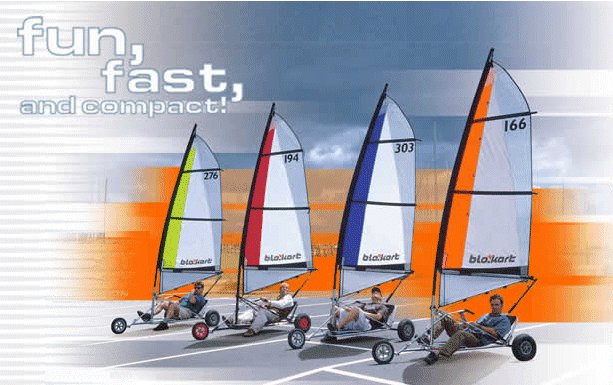 Welcome to Blokart Adventure, home of Ireland's latest fun beach sport.



ing is open to almost anyone. The fun is instantaneous. You climb in, you strap up and you buzz off along the beach. After two or three runs it begins to dawn on you that it really is as simple as it seems, and you relax, lie back and enjoy.

Looks like fun? We offer one-day and weekend blokarting sessions with all equipment and training supplied. We cater for groups, individuals and families, and can tailor our courses to suit your needs. Click on the links below to find out more!


Equipment
Courses
Bookings
Gallery
---

Blokart Adventure Ireland
Tuition - Equipment Sales - Gift Vouchers - Company, Group and Family Rates
email:
phone: 01 8303884 and 087 2589245


---

Make sure you also check out our sister company http://www.paraglideadventure.com/ to find out how to experience the thrill of paragliding!

blokart ireland, blokart, blokarts, blocart, blowcart, blowkart, sand yacht, sand yachts, ireland, dublin, corporate, company, group, family, outdoor, beach, adventure, extreme, team building, team-building, fred lahiff, free flight, paragliding, hang gliding, blokart ireland, blokart, blokarts, blocart, blowcart, blowkart, sand yacht, sand yachts, ireland, dublin, corporate, company, group, family, outdoor, beach, adventure, extreme, team building, team-building, fred lahiff, free flight, paragliding, hang gliding, blokart ireland, blokart, blokarts, blocart, blowcart, blowkart, sand yacht, sand yachts, ireland, dublin, corporate, company, group, family, outdoor, beach, adventure, extreme, team building, team-building, fred lahiff, free flight, paragliding, hang gliding, blokart ireland, blokart, blokarts, blocart, blowcart, blowkart, sand yacht, sand yachts, ireland, dublin, corporate, company, group, family, outdoor, beach, adventure, extreme, team building, team-building, fred lahiff, free flight, paragliding, hang gliding, blokart ireland, blokart, blokarts, blocart, blowcart, blowkart, sand yacht, sand yachts, ireland, dublin, corporate, company, group, family, outdoor, beach, adventure, extreme, team building, team-building, fred lahiff, free flight, paragliding, hang gliding, blokart ireland, blokart, blokarts, blocart, blowcart, blowkart, sand yacht, sand yachts, ireland, dublin, corporate, company, group, family, outdoor, beach, adventure, extreme, team building, team-building, fred lahiff, free flight, paragliding, hang gliding